For a lot of habits, we develop routines. That way we build a control system so we don't forget to do what we planned. Usually, we take supplements when we have a meal. We won't forget to take them then, and often the effect of supplements is better when they are taken with food. Is there a best time for supplements, water, and food?
Much of this article is about how I handle supplements, food, and water. Although my behaviour is based on scientific research, you can say that these texts are my opinion.
As I often say on this website, for any scientific research that is positive about something, there is research that is negative. That's why I try everything and see how my body reacts. I let that guide me in my decisions.
Some of the links are affiliate links. As an affiliate associate, we earn a commission when you purchase any of the products offered through the shared links at no extra cost for you. This helps us maintain this website.
The best time for supplements, water, and food
The best time for supplements depends on the different supplements. For most, it is best to not take them on an empty stomach. The best time for water is right after getting up. The best time for food depends on your preference as long as you don't eat all day long but have certain dedicated times for a meal.
Know what you are doing with supplements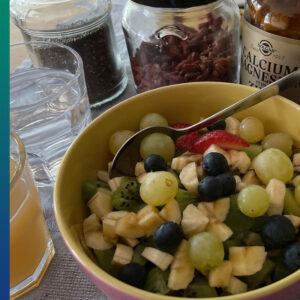 Don't just take supplements because your friend is raving about them. Base your choice for a specific supplement on either the results of a blood test or the directions of a doctor or dietitian.
Some supplements don't react very well or are optimal when taken together. Others enforce each other. That's why expert guidance is important.
The best time for supplements
The word supplement already specifies what is usually the best time to take them: during a meal or right after. Depending on the supplements the best meal for that is breakfast.
Some supplements don't settle well on an empty stomach. Magnesium, for example, can cause diarrhoea. But there are exceptions, like prebiotics and probiotics.
Also, Iron is best taken on an empty stomach, with a glass of orange juice because vitamin C promotes the absorption of iron. Which doesn't mean you should take the vitamin C capsule on an empty stomach as well, because vitamin C is water-soluble and therefore would leave the body too quickly.
Choose quality
When it's about your health, you shouldn't skimp on quality. Choose a brand that is natural, organic, and certified. A good brand has a clear description of its content and label instructions on how to take the supplement.
One of the main reasons that people need supplements nowadays is the terrible state of our agriculture. Due to the manipulation of produce, poor soil care, pesticides, and herbicides, our food does not contain enough vitamins and essential nutrients.
Personally, I think it's a shame that this practice is allowed to continue. But I try to contribute by only buying organic food. And by choosing organic supplements.
Bulk drinking, what's that?
The human body consists roughly of 63% water. We need to drink enough water to make sure our body stays hydrated. Enough is the number of litres you get when you multiply your weight in kg by 0,044. For women that comes down to 2 to 2,5 litres, men will need a bit more, 2,5 to 3 litres.
Hydration aids the absorption of nutrients in the intestines, the transport of substances through the body, and the regulation of the body temperature.
After a night's sleep, our body is dehydrated. It's best to drink at least one glass of water at room temperature right after we are out of bed. Preferably even more. If you don't like water, herbal tea is fine as well.
Water during meals
It's a bit strange the first question in a restaurant we get is "What do you to drink?". By drinking during the meal, the food is sent through the stomach too quickly, so that the nutrients cannot be absorbed properly.
Too much fluid also prevents the stomach acids from doing their job. It is better to chew very often. Then the food becomes moister through your saliva, which also contains enzymes that partially digest your food before it reaches your stomach.
We don't drink the half-hour before a meal, nor the half-hour after.
Ice cold water is not very healthy
Cold water increases the risk of respiratory infections and various types of throat problems. It can cause mucous membranes to become inflamed more quickly. Drinking cold water causes your blood vessels to contract, which slows down the flow of blood.
Cold water makes the fat of the food harder which your stomach is digesting, disrupting the digestion process.
And in summer drinking ice-cold water makes your body temperature go down, so your brain will give the message to warm up. Making you warmer instead of cooling off.
Take an example to the animals
If you feel a lack of energy during the day, it might be that you sip too much. Try to have 3 or 4 moments during the day to drink a lot of water all at once.
The reason for this is that our body still isn't adjusted to the fast modern life. When we were cave people there wasn't always water or food around, so whenever there was a chance to drink, we drank a lot all at once.
Have a look at your pet. A healthy cat or dog will drink a lot all at once as well. 🙂
Intermittent fasting
Obesity is a huge problem, especially in the Western world. Some obese people have a disease, but most just eat too much, too often, and the wrong food.
Mind you, I don't look down on fat people. Beauty ideal images do more harm than good. However, it is a fact that a number of bodily functions work better if there is not too much weight on them.
The best solution: eat less
When Tom and I were still living in the Netherlands we ate 3 meals a day. And the most simple solution when we were told to lose weight because our cholesterol levels were too high, was to eat less.
We live in Spain now, where they eat 5 meals a day. At a different time schedule than the Dutch do. What we adapted very quickly to was switching the main meal to lunchtime instead of dinnertime. But dining at 11 pm is silly in our eyes.
So by accident, we became intermittent fasters. I must admit I am more strict in it than Tom is. Between 8:30 am and 5 pm I have breakfast and lunch ending at 5 pm with a couple of nuts and dates.
Timing is essential
Apart from the timing of water, food, and supplements, a healthy lifestyle is a complete set of habits, including exercise and sleep.
Exercising
Specifically, if you want to lose weight it is beneficial to exercise before breakfast. You will burn more body fat. By the way, I spend an hour before breakfast on several activities.
>>> Have a look here for an infographic I made about a well-spent hour <<<
Right after a meal, it's better not to perform heavy exercises. Wait for at least half an hour. And if you have trouble sleeping then a stroll right before going to bed is beneficial.
Sleeping
Going to bed and getting up at the same time gives the best chance of regular and good sleep. Even when you haven't slept well, try to have a regular bedtime window, with an hour of slack on both sides.
Living by the clock?
My clock is not a dictator, but the regular daily activities are all more or less on their own time. I don't use an alarm clock, so if I happen to be awake an hour later than usual, all activities shift up accordingly.
Do you have specific times for specific activities? Tell me in the comment box.