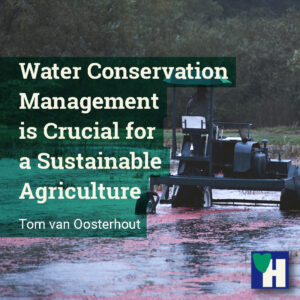 Water conservation management is, of course, not only crucial for sustainable agriculture. Any agriculture needs proper water conservation management. However, for various reasons, with sustainable agriculture, water conservation management requires much more skills and attention. Even our kitchen gardens require water conservation management.
Today it is 37 Celsius. The sun burns all day. There is hardly any wind. When the sun no longer shines in the kitchen gardens, our irrigation system waters the plants for 10 minutes. First, the one where the herbs grow, next, the one where we try to grow tomatoes and zucchini.
The water runs through small plastic tubes from 2 main taps. One up in the garden, the other on the side of the house. Both taps are connected to a clock. The clocks are set for the time and the duration of the desired water flow. When the temperatures stay this high in the coming weeks, the duration has to go up to 15 minutes per day.
Some of the links are affiliate links. As an affiliate associate, we earn a commission when you purchase any of the products offered through the shared links at no extra cost for you. This helps us maintain this website.
A garden full of cacti
How sustainable is irrigation? It depends on from which perspective we look at irrigation systems. Ours is a small-scale system. The plastic tubes are not our favorite, but for now, we need them. Because we need the clocks. When we want to go on a holiday for a couple of days, or weeks, the clocks are the only system to keep the irrigation going.
Without water, no plants but cacti would grow in our garden. Our kitchen gardens are not big enough to produce all the organic food we need. What we grow is only a marginal amount of what we actually eat. So, why go through all the trouble of maintaining kitchen gardens? A garden full of cacti is beautiful as well. We know gorgeous botanic gardens in Monaco and on Lanzarote where only cacti grow.
We have kitchen gardens because we want to know what effort it takes to grow your own food. Specifically, because we only want to eat organic fruits and vegetables. To grow organic food requires a substantial amount of skills and patience. We also like to experiment and exchange seeds with others.
The 'natural' flow of water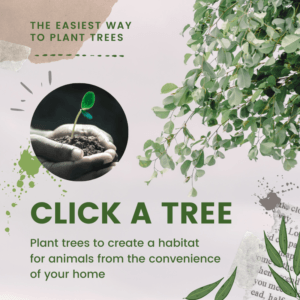 The water we use for our garden, all the water we use, comes from a municipal reservoir (we think). The municipal reservoir is filled by a canal that taps its water from the river Segura. This river originates in La Sierra de Segura in the National Nature Park La Sierras de Cazorla, Segura y Las Villas in Andalucia.
Because the water from the Segura is not enough to irrigate the vast tracts of agricultural lands in the regions of Murcia (where we live) and Valencia, a canal was constructed to transport water all the way to the Rio Segura from the Rio Tajo, which runs through the middle of Spain and Portugal to the Atlantic Ocean. A branch of the canal runs some 200 meters behind our garden.
This arrangement, of flowing water entirely from the middle of Spain to dry coastal areas, is not very sustainable. Every year, again and again, a huge political fight starts discussing the amount of water that will flow from the Rio Tajo to the Rio Segura. For the farmers, it's never enough, or always too much. Depending on where the farmer lives. It's a political nightmare because agricultural lobbyists keep all political parties, and the environment and environmentalists, hostage. With detrimental consequences.
The illegal flow of water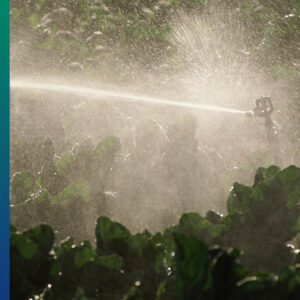 Water and water conservation management are of course crucial for commercial agriculture. The irrigation of our two small kitchen gardens is peanuts compared to the water challenges commercial farmers face. This does, however, not mean that these farmers use their water sustainably. Nor do they care much for other concerns than their own.
We know in Spain two nature parks which are under serious threat because of deliberate water mismanagement by farmers. In the middle of Spain lies the smallest Spanish national nature park: Tablas de Daimiel. Tablas de Daimiel is a wetland. Which is extremely rare in the middle of Spain. The park is of exceptional value for marshland birdlife.
Tablas de Daimiel is surrounded by farmland. Up until a couple of years ago, nature and farmers' concerns were reasonably kept in balance. Until the farmers started to grow crops that needed substantially more water. The farmers illegally dug hundreds of wells to pump up the water. They almost drained the wetlands.
Another example, which received substantial international exposure last month, is the national park Doñana. The park borders the Mediterranean and has been formed as a delta of the river Guadalquivir. On Thursday, June 24, this year, the European Court of Justice condemned the Spanish government for its lack of protection of Doñana. The first complaints reached the EU already in 2009. Let's hope the conviction will fundamentally change Spain's attitude. 
The polluted flow of water
Water comes from many sources. Wells has already been mentioned. Springs, rivers, and lakes are also regular water sources. Treated wastewater from industries or cities is used in agriculture. However, 90% of this water is untreated wastewater. A very expensive water source is desalinated water from the sea.
It is striking that rainwater, as runoff from roofs, streets, or unused land, is not considered to be irrigation water. The water in wells, springs, lakes, and rivers usually is generated by rainwater. Many gardeners use rainwater to grow their plants.
The advantage of rainwater is that it is not as polluted as wastewater from cities and industries. However, in many agricultural areas, not enough rainwater can be harvested to grow crops. There, farmers rely heavily on water from wells, springs, rivers, and lakes. That farmers avoid river water makes some sense, because most rivers are severely polluted.
Related: Collect Rainwater Safely and Effectively and Save on your Water Bill
Water conservation management is crucial
Water is a limited and at the same time crucial source to grow our food. Agriculture uses 70% of all the fresh water sources in the world. This is why proper water conservation management is key to sustainable agriculture and sustainable agriculture is key to proper water conservation management.
Correct water conservation management and sustainable agriculture do not only ensure our food. These also contribute to healthy soil and biodiversity. The best contribution we can make as consumers to proper water conservation management is to eat as little meat as possible.
What is also important is that we inform ourselves. The consumption of meat does not only contribute to the destruction of rainforests, it also uses extraordinarily huge amounts of water. To a lesser degree, this is also true for potatoes and avocados. Cereal crops use much less water. We should take this into account when we shop for our daily groceries. Proper water management is also the responsibility of consumers.
How do you handle your water? Let us know in the comment box.