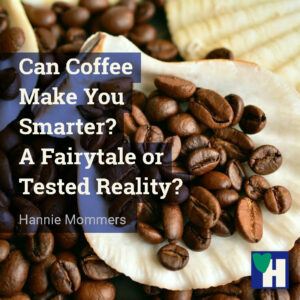 A question that popped into my head the other day: Can coffee make you smarter? Or does it take a smart person to drink coffee?
A few years ago, coffee was pretty much banned in my environment because it would be bad for us. Nowadays we are obliged to drink it again because it would serve us so well.
My morning coffee is almost sacred. I have a cup of black coffee before 11 am and enjoy that immensely. With or without health benefits. 🙂
That used to be different when I was younger. Then I drank coffee all day long, even in the evenings, without giving it much thought. It was just a drink. I can't even recall if it affected my sleep back then. 
Some of the links are affiliate links. As an affiliate associate, we earn a commission when you purchase any of the products offered through the shared links at no extra cost for you. This helps us maintain this website.
Can coffee make us smarter?
Coffee is more than just black water. It contains many nutrients such as vitamin B2, vitamin B5, magnesium, potassium, and nicotinic acid. The caffeine, coffee contains, is stimulating and blocks certain effects that have a negative impact on our brain.
Reasons to drink coffee
Coffee tastes good, it's delicious. Yes, I know, this is my opinion, not a fact; 🙂
It's good for our health;
The caffeine in coffee makes us smarter;
Having a coffee with friends is a great social event;
Drinking coffee, moreover all the fancy kinds of coffee, has become a culture.
Health claims
1. Coffee gives us energy
This is because coffee contains the stimulant caffeine, which blocks an inhibitory neurotransmitter in the brain with a stimulating effect as a result. 
2. Drinking coffee improves our brain
Studies show that coffee can improve various areas of brain functions, such as alertness, memory, reaction speed and general cognitive functions. Yes, coffee might make us smarter!
Brain diseases like Alzheimer's, Parkinson's and other types of dementia are developed less or slower in people who drink coffee, these studies show.
3. Physical performance
Where watermelon can be beneficial against stiffness, a strong coffee half an hour before we go to the gym could significantly improve our physical performance. 
4. Burns fat and speeds up our metabolism
Caffeine is one of the few natural substances proven to help burn fat. Research also shows that caffeine can boost metabolism. Together with the absence of calories in coffee, this is great if we want to lose weight.
5. Protection of the liver
Coffee drinkers are less likely to develop cirrhosis. Even liver cancer is less common among coffee drinkers.
6. Life-extending
Some studies claim that drinking coffee protects against premature death. With all the health claims that have been attributed to coffee, we can assume that coffee helps us to live longer.
7. Great source of essential nutrients and antioxidants
For some people, their daily cup of coffee is one of the healthiest aspects of their diet, as coffee contains a huge amount of antioxidants. Not everybody eats enough fruits and vegetables, so it is good they at least drink coffee. Coffee is more than just black water. It contains many nutrients such as vitamin B2, vitamin B5, magnesium, potassium and nicotinic acid. 
When is it better to skip coffee?
1. Headache and high blood pressure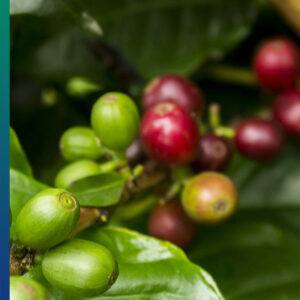 Coffee can lead to headaches and migraines and your blood pressure can arise from too much caffeine. Some studies show that strokes are less common in coffee drinkers. However, be careful with coffee when you have high blood pressure.
2. Getting too much caffeine?
Do you drink more than 3 cups of coffee a day? It might lead to consuming too much caffeine. If you are feeling restless, anxious or even don't sleep well, you'd better drink less coffee or skip it for a while.
3. Dehydrates
Consider drinking a glass of water with each cup of coffee you take, because coffee dehydrates the body.
4. Addictive
Coffee is addictive. Do you want proof? If you drink 4 or more cups daily and suddenly stop, you will get withdrawal symptoms, like headaches, trembling and reduced concentration. Hmm, maybe it's better not to stop abruptly, but do consider reducing your coffee intake gradually.
How to drink our coffee?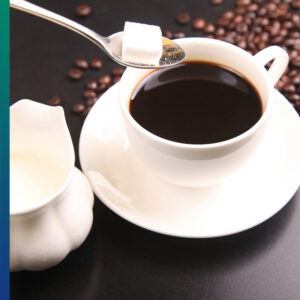 There are almost as many different coffees as there are coffee drinkers. Most people will have a preferred way to have their coffee made.
In the Netherlands, it is custom to first ask visitors if they want a cup of coffee before a meeting starts. People drink it black, with sugar, with milk, or with milk and sugar. And of all the clients I offered coffee there was just one that changed the additions depending on his mood of that day. Everyone else always had it the same time and again.
I am no different. I drink my coffee black and have done that since my early thirties.
Fun facts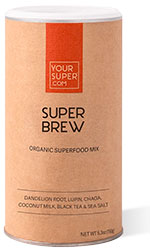 Cultural differences
In an article about communication, I wrote for one of my other websites, I tell a story about differences in culture. When we as Dutch invite somebody for a drink in the morning, we ask them to come and have a coffee with us. Even when we will drink tea then.
It's probably comparable to the English having supper in the afternoon, which is almost a complete meal, but still called 'having tea'.
By the way, I always thought South Europeans drank loads of coffee, but on writing this article I discovered that Northern Europeans surpass them by far. Especially the Finns, who are in the lead, but also in the Netherlands, more coffee is consumed on average than in Spain.
The only period I went without my daily coffee was our first holiday in the USA. Sorry, my American friends, but I really disliked the weak brew that goes under the name of coffee there. It's funny because the coffee I order over here in Spain is called un café americano. This is the way-too-strong Spanish espresso with added hot water. Perfect for me, but as you can guess, still too strong for Americans.
Coffee is good for your garden
We have our own compost pile and coffee is a good addition to that. We want our heap to be as organic as possible so I remove the paper. Not because of the paper, although the bleach used to whiten the paper is not that good, but because of the plastic particles in the glue.
Coffee beans are not beans at all
Although we call them beans, coffee is actually a fruit. Coffee beans are the roasted seeds of a berry kind.
Fairytale or reality
Can coffee make you smarter? The answer lies of course in the way we drink our coffee. Occasionally a massive intake, because we need to stay awake, won't harm us. Daily usage of more than 3 cups probably will.
And it also depends on the additions. Loads of sugar or a lot of added milk won't do you much good either.
Enjoy your daily coffee and take it with care. 🙂
How do you drink your coffee? Tell us in the comment box.