The holiday season is on its way. Maybe it's early to talk about the presents we want to come up with to give to our family and friends. 
On the other hand, Black Friday (the last Friday of the month) is coming as well. Lots of companies have nice offers either on that specific day or, to avoid crowds, spread out over a few days or weeks.
So why not be frugal and save ourselves the stress of December by thinking about green presents for the holidays now.
Some of the links are affiliate links. As an affiliate associate, we earn a commission when you purchase any of the products offered through the shared links at no extra cost for you. This helps us maintain this website.
Green presents for the holidays
It is wonderful to come up with gifts for the family. The only thing better is having Santa bring green presents for the holidays! Lots of companies and webshops focus on ecological products with a keen eye for the environment.
Festive meals
Delicious shared meals, lots of fun, and a long after-dinner sitting at the table. Chatting, enjoying the food and company, nice and warm inside while outside the snow is blown against the windows.
I can already imagine the whole picture. Except for the snow, of course. Usually, over here in Spain, we can have lunch outside on the terrace. That's evenly pleasant, don't you think?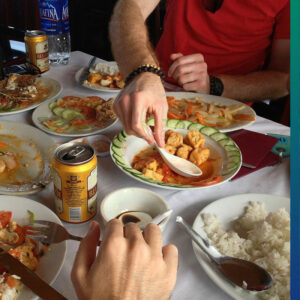 Serious knife set
When we emigrated 4 years ago, we got rid of many household items, but there was never any discussion about the set of kitchen knives.
Every cook needs a good set of knives. If you argue that the ingredients are much more important, I can only agree.
But after the ecological ingredients are bought, the chef's life is made considerably easier if he or she can work with a knife that is sharp and sturdy.
Green tools in the kitchen
In addition to a set of knives, there are all kinds of handy products that do not harm the environment or are a good replacement for toxic products.
More and more companies have a return system for their packaging or refills, which makes it a little less bad that the inevitable plastic has been used.
Safety is very important, so if you plan a barbeque, make sure the temperature is high enough.
Related: ​​Slow Cooking with a DIY Solar Cooker can be so Much Fun
Superfood for a super meal
Whether or not the word superfood is a marketing term, I don't really care. I love most superfoods and the idea that they are extra healthy gives me great pleasure.
Get seeds, such as chia seeds, and herbs, such as Curcuma, from the organic store and put them in festive packaging.
Or make it easy on yourself and buy one of YourSuper's healthy cardboard tins. After unwrapping the gift, the contents can be used immediately in the holiday meal.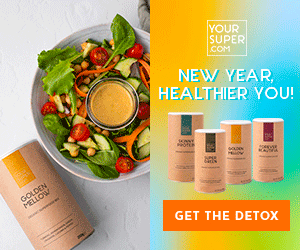 Related: Eating a Rainbow of Food Will do a Lot of Good
Avoid food waste
When we have guests for lunch or drinks with tapas, we usually have too much to eat.
I suspect almost everyone will recognize that. Ultimately, we don't want to have too little to offer.
And it shouldn't be a problem. If we can keep everything in the fridge or in kitchen cupboards, we can use it up in the days after.
Give these bee's wraps as a present and buy some for yourself as well. Very handy and plastic-free!
Useful knickknacks
Everyone has a mobile
The first purchase Tom and I always make after purchasing a new mobile is a case.
We don't often have to get a new mobile because we are careful with our stuff, and at the time there were only plastic or silicone cases available.
Fortunately, that has changed and there is now a lot of choice in alternative and green materials. Even plant-based, transparent ones.
Personal care
Massage while combing your hair
With a wooden comb, you don't have to worry about static charge, unlike using a plastic comb. Static electricity promotes hair breakage. A good wooden comb helps to detangle all hairs without damaging the hair or charging it statically.
It is wonderful to comb your scalp with a wooden or bamboo brush. Your scalp is massaged in a gentle way.
A great present for a family member with long hair.
Prevent bathroom waste
Grabbing a tissue to remove excess makeup. Cotton pads to remove makeup in the evening. Ear swabs to clean the ears.
When we look at everything together, quite a lot of waste is thrown away in the bathroom.
One of the solutions is a travel kit from LastObject that is available in various colors.
Not only handy when traveling but also in the bathroom at home.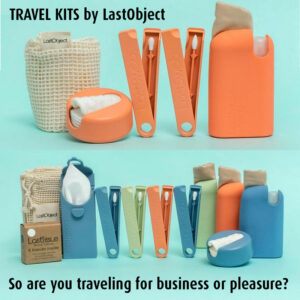 Relaxing
For some people, the holiday season is a stressful event. We can tell them several times it's not necessary to fuss but it might be better to offer relaxing presents.
Bamboo diffusers with aromatherapy essential oils provide not only the gift recipient but everyone in the house with health benefits.
Good essential oils are organic and pure. These are especially relaxing: lavender, ylang-ylang, lemon, chamomile, or rose.
Top it off with a cup of chamomile tea and put whoever has fussed the most in an armchair.
Related: The 8 Most Important Essential Oils Everyone Should Have
Nature in the house
Bring plants into your home
NASA has made a list of 18 plants that are exceptionally good for air purification inside the house. For example, Sansevieria, Spathiphyllum, Bamboo palm, Dracaena draco, Anthericum, or Ivy are on this list. Some of these plants are very easy to care for and will thrive anywhere in your home.
If you have a family member who would like to plant but does not have green fingers, consider giving a PlantBoxs subscription.
They provide manuals with every plant that is sent and there is a help desk that can be called upon with questions about the care of the plants.
Experiences to remember
Instead of stuff, it's also a great idea to give memories and experiences. Make a drawing or a voucher with your offer so that you can put something tangible under the Christmas tree.
Create your own adventures
The easiest thing to give would be an amusement park ticket, but amusement parks with their fast-food stands are far from green.
Take your family on a nature walk and explain the flora and fauna. Or ask a nature guide to accompany you.
Go to a museum or offer a walk in an unknown city where you hire local guides. Urban adventures has some of those options.
Give a tree
One of the best things I've done in the past year is to give my grandchildren a tree.
Not a tree to put on their balcony, but a tree in Thailand and the other in Ghana.
The trees have been planted by Click a Tree in areas threatened by deforestation. And I have been able to name the trees after my grandchildren so that there is always an email reporting the progress of tree Diego and tree Alex.
They love it!
Green presents for the holidays
There are probably more green presents you can think of. Maybe there is something in my list that you like and if not, hopefully, you have found inspiration for conscientious gifts.
Do you have more green ideas? Tell us in the comment box.