In 2020 there was worldwide 900% more plastic than in 1980. An unbelievable number, don't you think? I think there is a huge responsibility with the companies that produce plastic objects and wrap their products in plastics. Yet we as consumers can put in an effort as well. It's not that hard.
There are easy ways to reduce plastic waste for conscious consumers. I agree with the following quote: "We don't need a handful of people doing zero waste perfectly. We need millions of people doing it imperfectly".
The annual production of plastics is 500 million tonnes! It is estimated that not even 10% of this is recycled. And what I think is even more shocking: these recycled plastics are shipped to third world countries where people sort them for a few dollars a day.
Some of the links are affiliate links. As an affiliate associate, we earn a commission when you purchase any of the products offered through the shared links at no extra cost for you. This helps us maintain this website.
Are there easy ways to reduce plastic waste?
Most ways to reduce plastic waste are already well communicated: REFUSE single-use plastic, REDUCE the plastic items you buy, REUSE plastic stuff, and RECYCLE packaging. The most important R-word however is REPLACE. Many plastic items have great alternatives in different materials, like glass, metal, or silicone.
LastObject, a Danish design agency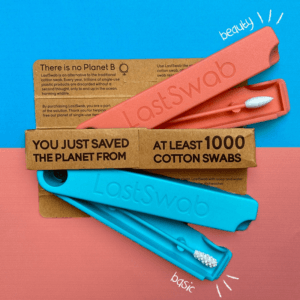 Oceans will contain more plastic than fish by 2050. Instead of buying off a guilt feeling by donating revenues to charity, 3 Danish designers decided it was way better to rethink the use of plastics and make durable products instead.
LastSwab
A total of 1.5 billion cotton swabs are made. Every day! That is 1.5 with 8 zeros. We probably all remember the picture of a seahorse hanging on to a cotton swab with its tail. For a lot of people that picture was a turning point in their way of thinking.
I don't use cotton swabs often. They can ruin our ears and since I have a lifelong problem with my ears I am always very careful. I used to drain cotton swabs with olive oil and swipe through my ears.
LastSwab is not porous and does not absorb liquid, making me wonder whether LastSwab would be to my liking. I had to get used to the different material and adjusted the way I take care of my ears. Now that I have, I am enthusiastic about my Dolphin Turquoise swab.
Available: Ear swab, beauty swab, and baby swab.
LastTissue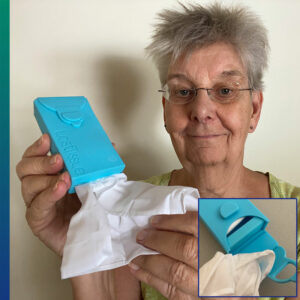 After using recycled paper tissues for several years, I switched to cotton handkerchiefs. I never knew what to do with them when I had a cold and blew them dripping wet. Rarely do we have plastic bags with us because we always refuse them in the shops.
Soaking wet the handkerchiefs ended up back in my purse until we got home and I could throw them in the washing bin.
That problem is gone now that I have my LastTissue. At first, I thought "What's the brilliance of designing a tissue packet of silicone that looks like the plastic ones for paper handkerchiefs. Well, the brilliance is in the details.
There is a slot in the bottom through which you can pull a clean tissue. Furthermore, LastTissue has a separate barrier that divides the clean from the dirty handkerchiefs. No more wet mess in my handbag.
I have read reviews that stated the handkerchiefs were too small, but I disagree. If my cold is that bad that I use more than 6 handkerchiefs a day, I would stay home to not contaminate anyone else.
Size: 18,5 x 18,5 cm.
LastMask
Apart from all those people that died abandoned and without proper care, especially when the pandemic started, one of the biggest horrors is all those plastic masks that end up in nature.
Spain still requires us to wear those dreaded masks even outside if we cannot maintain a distance of 1,5 m. Inside it is always mandatory. By the way, usually, the masks are worn on the chin, so I call them Spanish beards. 🙂
As soon as they were available, I bought cotton masks. Having the same problem I had with the handkerchiefs: where do I put them when they are not on my face?
The LastMask case that comes with the cotton mask solves that problem. A small spray bottle for disinfectant has also been thought of.
LastRound
LastRound is another member of the LastObject family. Since I don't use makeup pads, I haven't ordered one. Yet, it is obvious that it has the same advantages as the other items.
Laundry bag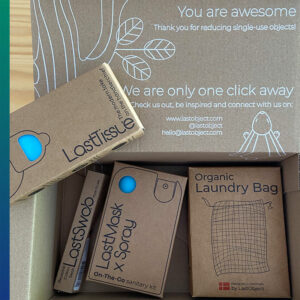 The cotton laundry bag came as a gift because I bought my LastObjects as a TravelKit. It is convenient to wash the handkerchiefs in as well as the pads.
If you consider buying more than one item of LastObject, I recommend looking at the kits they offer.
Available: Travel Kits, Beauty Kits, Personal Care Kits
General remarks
Objects: Some parts are made from recycled safe plastics, other parts from silicone or biopolymer;
Colors: Available in several colors that are all named after an endangered species, like Turtle green, Krill peach, or Polar Bear white;
Fabric: Organic cotton;
Packaging: 100% compostable cardboard;
Manual: Printed on the inside of the cardboard boxes;
Design: Award-winning. Not because I said so but they actually have won several design awards;
Prices: Reasonable. Yet I am aware that this is a subjective opinion.
What I love about LastObject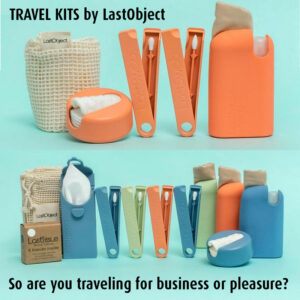 The design of the LastObject items is beautiful. It's great that a must-have item can also be a nice-to-have item. Especially for someone like me who is a true lover of well-thought-out and attractive design.
I love that the order came in a cardboard box, sealed with paper tape and fitting, without a lot of redundant space. Each item is packed in cardboard with the needed information and a manual printed outside and inside.
Related: 9 Tips to Reduce Packaging for Consumers (and Listening Producers)
What I don't like about LastObject
Even though it's recycled plastic – safe and BPA-free – it is still plastic. Plastic can also be considered a raw material, but its reputation is just not good at the moment.
Related: Is Plastic Really a Problem? (Probably Not, but Something Else is)
Zero waste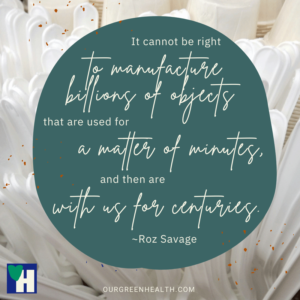 Zero waste is my aim. That worked out way better in the Netherlands than here in Spain, but that shouldn't stop me from at least trying.
As you can imagine I am happy with any object I find that supports me in this.
By the way, I was curious how big my plastic footprint is at the moment. It turns out to be about 40 kilos per year. Still, a lot, don't you think?
I calculated that by using the footprint calculator. Perhaps the last push for you as well to buy LastObjects?
Related: Easy Sustainable Living Ideas – Pick 1 or 2 and Start Living Green
Did you work out your plastic footprint? Tell us in the comment box below.