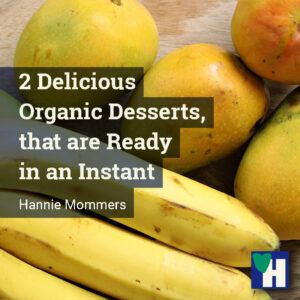 When we stopped eating and drinking dairy it was a big problem to come up with ideas for a dessert, especially organic desserts. Eventually we have found several recipes which gave inspiration to invent some of our own as well.
Almost everything we buy is organic. Someone asked me on Facebook where we get organic hazelnut paste. We're glad that nowadays even in Spain there are more and more organic stores, where they have hazelnut paste, peanut butter, or cashew butter.
Have a look for another recipe here: apple and pear sauce.
Bango Pudding
The other day Tom made a delicious organic dessert for lunch. Yummie! We have called it Bango Pudding. Most desserts are full of sugar and fat, these are not.
Ingredients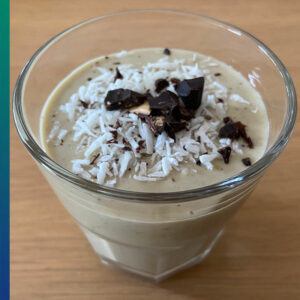 1 banana or 2 small ones
1/2 mango
1 tsp. Your Super Forever Beautiful
1 tsp. Your Super Super Green
3 tbsp. hazelnut paste
some almond milk
Topping
chopped dark chocolate
coconut grit
Preparation
Mix all organic ingredients in a blender and spoon them into bowls. Garnish with chocolate and coconut grit.
If you can find dark chocolate sprinkles without sugar in the organic store, it can also be used.
This dessert is quite heavy, so use small bowls. If necessary, you can keep some in the fridge until the next day.
Related: Yellow Foods that Boost your Immune System Naturally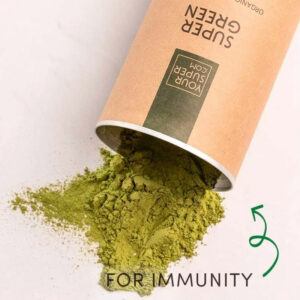 Vanilla Maple Chia Pudding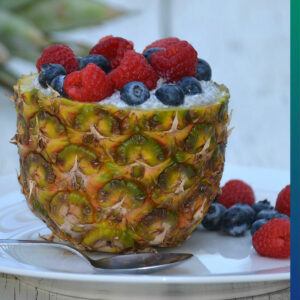 1⁄2 cup chia seeds
1 cup almond milk
1 cup coconut milk
2 tbsp maple syrup
1⁄4 tsp vanilla powder
Topping
1⁄2 cup almonds, chopped
3⁄4 cup pineapple chunks
2 tbsp coconut flakes
Preparation
Add chia seeds, almond and coconut milk, maple syrup and vanilla to a bowl and stir well. Let it rest covered in the fridge for at least 2 hours (better overnight) until it's achieved a pudding-like consistency. Garnish with almonds, pineapple chunks, and coconut flakes and serve chilled.
Related: Best Seeds to Eat for your Daily Dose of Healthy Supplements
The Chia Pudding is a modifiation of one of the recipes from the A to Vegan Bundle.
Some of the links are affiliate links. As an affiliate associate, we earn a commission when you purchase any of the products offered through the shared links at no extra cost for you. This helps us maintain this website.