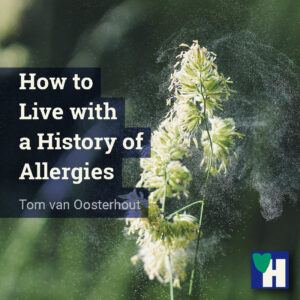 A history of allergies can have a severe impact on our lives. More and more people are diagnosed with allergies. Particularly food allergies are on the rise.
When we visit the food department of the supermarket there are a lot of products on offer without gluten. We all have friends that are afraid of bees or peanuts. A lot of dust in the air makes most of us sneeze.
Allergies are related to many other ailments. How to handle the consequences of allergies is not easy. For people with mild to serious consequences, this is a lifetime job. Moreover, with the current pandemic much more is at stake.
How to control a history of allergies?
The only way to control allergies is by avoiding the allergens causing them. Only very few side-effect-free medications exist to control allergies. A healthy lifestyle with lots of fresh fruits and vegetables supporting your immune system is, however, always good advice.
What are allergies?
An allergy is a hypersensitive reaction of the body's immune system. There are various types of allergies. The best known are allergies to food and beverages, to pets and insects, to dust and make-up, and to pollen in spring.
The rise of the amount and types of allergies during the past 3 decades in high-income countries is explained by the hygiene theory. This theory suggests that a lack of early childhood exposure to specific microorganisms causes allergies. Genetic predispositions may increase the sensitivity to allergies.
The most severe allergic reaction is called anaphylaxis and may cause premature death. However, almost all people who suffer from an anaphylactic reaction survive. Common causes are bee and insect stings, and medication and food such as groundnuts (peanuts).
Even for goldfish
Allergies come with a lot of physical anxieties. Asthma and bronchitis are both attributed to allergies. In her youth, Hannie was tested for allergies. She was diagnosed to be allergic to almost everything. "Even for goldfish," I sometimes jokingly remark.
However, allergies are no joke. After prolonged therapy Hannie's symptoms diminished. At present, she only gets allergic reactions when in the same unventilated room with a cat or dog. These reactions can be quite severe.
There is an extended industry that makes money out of allergies. Another type of industry risks losing a lot of money when allergies keep on rising as they did the last 30 years. Some latter types of industries are peanuts, cosmetics, and dairy products.
Groundnut allergy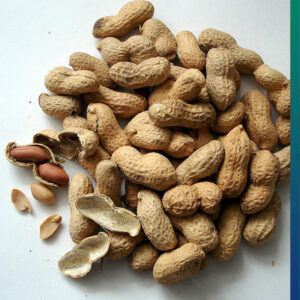 Worldwide 44 million tonnes of groundnuts (peanuts) were produced in 2016. In that year the commodity price of groundnuts was reasonably stable at around 1,500 US dollars per ton (1,000 kg). Thus, the total financial turnover for groundnuts in that year was an estimated 66 billion US dollars. With so much money at stake, a groundnut allergy is the last producers, wholesalers and the groundnut butter industry want.
There is a very simple solution to groundnut allergy: gradually feed young children with more and more groundnuts during a period of months to years. This therapy seems to work. However, this is not a serious solution. It only serves commercial interests.
The best prevention, when you suffer from a groundnut allergy, is not to eat them or the products containing groundnuts. Try another nut. The predominant mono-culture of groundnuts is pretty bad anyway.
Mono-cultures deplete the soil. Moreover, pesticides and fungicides are used in abundance in the production of groundnuts, which is a severe threat to biodiversity. This also makes me wonder what the link is between the use of pesticides and fungicides on the one hand and allergies on the other.
Cosmetic allergy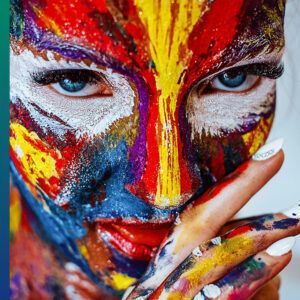 In 2007 the worldwide cosmetic and perfume industry generated a turnover of 170 billion US dollars. No wonder cosmetic and perfume companies are very keen on allergies. A recent study revealed what causes allergic skin reactions to cosmetics.
Common additives in cosmetics trigger itching and redness by destroying skin-fat molecules that control the immune response. The size of these common additives is so small, they easily penetrate the proteins on the surface of the skin, pushing aside the fat molecules. When these molecules are gone, the cells get anxious, alarm the immune system, which incites an allergic reaction.
Don't use cosmetics when you want to prevent an allergic reaction. There is however a far more important issue at stake. Why is an industry allowed to produce stuff threatening your natural defense systems? Why do we allow people to earn tonnes of money to destroy us?
Milk allergy
It's no surprise the more money is made in a specific industry, the more important it gets to fight allergies caused by the industry's products. In 2018 the worldwide production of milk was estimated at 800.000 metric tonnes.
Because milk prices fluctuate frequently it's hard to calculate the exact total turnover. Moreover, many milk products are sold to consumers way above the price farmers receive. However, setting the average farmers-price per kilo between 0.25 and 0.50 US dollars, the total turnover must be somewhere between 200 and 400 billion US dollars.
To prevent cow milk allergies scientists masked the most important cow milk protein with iron. The idea is that the iron mask fools the body by letting it think that you're not drinking milk. This stops the allergic response, and might even prevent milk allergies from developing.
Personally, I'm not a big fan of dairy products. They are too disruptive to my digestive system and result in fungus between my toes and behind my ears. Moreover, dairy farming is one of the biggest producers of the high CO2 and methane levels contributing to climate change.
Animal welfare is also not a very high priority for dairy farmers. The average lifespan of a regular production cow is 3 years. The average lifespan of an organic production cow is 8 to 12 years.
A history of allergies and Covid-19 vaccination
At the moment, for those who have a history of allergies, the question is how to handle covid-19 vaccination. The answer is that it depends on how severe your allergic reactions are. If you have only minor allergic reactions, you can proceed with vaccination. However, observe closely how your body responds. Any response that upsets you, is a reason to visit your doctor.
When you suffer from serious allergic reactions, or anaphylaxis, specifically when these reactions are or were caused by other vaccines or an injectable therapy, consult your doctor. Ask her or him to do a risk assessment.
When the assessment gives green light to your vaccination, ask her or him to check your response. Report anything that upsets you. Reporting anything out of the ordinary is a crucial step to ensure your safety and to help your doctor to support you.
How to live with a history of allergies?
Some rules of thumb apply:
See your doctor when you're not sure that you suffer from allergic reactions or which allergen is responsible;
Avoid contact with an allergen is sound advice. Dump all cosmetics and perfumes;
Medication is often the only way to manage severe allergic reactions. Also, because we cannot always avoid the allergens. It's almost impossible to avoid pollen;
Unfortunately, besides the tip to avoid contact with an allergen, no lifestyle advice exists that might help to cope with or prevent allergic reactions. Unless, of course, we want all young children to eat peanuts for months or even years on end;
Join a support group.
Do you have a history of allergies? Tell us all about it in the comment box.