Is Curcuma healthy? Curcuma belongs to the superfoods. Its health benefits are huge, yet there are some circumstances when it's better to minimize or skip eating Curcuma.
Other names for Curcuma are Turmeric, Kunyit, Indian turmeric, and Indian saffron. It is the yellow root of the Curcuma longa plant and is available both fresh and in powder form, and even as a supplement.
Scientific research shows that Curcuma has many health benefits.
If you have a health problem or certain medications, always consult your doctor before taking large amounts of Curcuma.
Some of the links are affiliate links. As an affiliate associate, we earn a commission when you purchase any of the products offered through the shared links at no extra cost for you. This helps us maintain this website.
Is Curcuma healthy?
In general, it's advisable to eat Curcuma daily, unless you have certain health conditions or medication. Curcuma is an anti-inflammatory and antioxidant substance that has many beneficial effects on the body.
Can we eat Curcuma every day?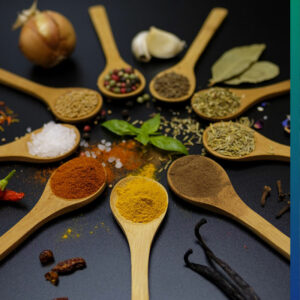 In addition to being a powerful antioxidant, curcumin is anti-inflammatory, antibacterial, and antifungal. It's a great natural immune booster. If we are healthy and want to strengthen our bodies, it is fine to eat Curcuma every day. The recommended amount is 1 to 3 teaspoons daily.
The active ingredient from Curcuma, Curcumin, has one downside. The body doesn't absorb it as easily, which negates many of the benefits.
Combining it with black pepper and/or fat improves its absorption, according to research.
The latter is due to the fact that Curcumin is fat-soluble. Try combining it with fats, green tea, black pepper, or omega-3 fatty acids (found in fish and shellfish) for maximum results.
Tea often contains turmeric and black pepper in Indian culture, usually together with olive oil, coconut oil, honey, and ginger.
Related: Yellow Foods that Boost your Immune System Naturally
Is Curcuma dangerous?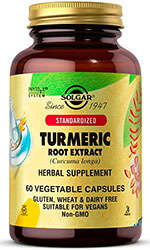 Many people seem to tolerate the components of Curcuma well. Studies have shown that some get side effects, especially stomach and intestinal discomfort.
Sometimes jubilant articles appear about Curcuma that would cure or at least reduce cancer. Understandably, cancer patients do everything they can to improve their condition.
However, it appears that the efficacy of certain cancer drugs is negated by Curcuma, causing an undesirable effect. Especially if people start eating too much Curcuma.
The health benefits of Curcuma
Health claims are rarely absolute. So the following list does not contain the 'may' or 'may help' for the sake of readability, but you should always think of these words before understanding each benefit.
Combats rheumatism and other inflammations
Turmeric has been used as a medicine in Ayurveda in Asia as early as 4,500 years ago. They called it a sacred herb because of its healing effect on inflammation. This anti-inflammatory effect is now also supported by Western studies.
Eases symptoms of osteoporosis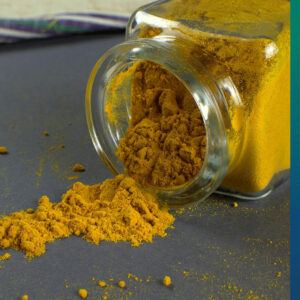 A growing number of researchers are studying curcumin's effects from a variety of perspectives. The anti-inflammatory properties of curcumin appear to counteract osteoporosis. Research is still ongoing to clarify how this works.
Kills cancer cells
Turmeric is also said to have the power to kill cancer cells. (Source: Cork Cancer Research Centre, Ireland). As mentioned before, there are also studies that have reported adverse effects of Curcuma use.
Against Alzheimer's
By binding to plaques in the brain, Curcumin prevents them from spreading. As a result, Curcumin plays an important role in preventing and inhibiting Alzheimer's (Source: Duke University Medical Center).
It is interesting to note that in India, where Curcuma is an integral part of the daily diet, the incidence of cancer and Alzheimer's is much lower than in other countries.
Antidepressant
Early research shows that people notice an improvement in mood when taking Curcuma. The development of new brain cells is stimulated and brain inflammation is combated by the anti-inflammatory effect.
Keeps blood vessels clean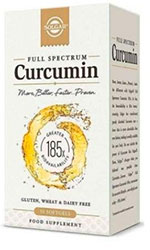 According to research conducted on menopausal women, Curcumin enhances blood vessel flexibility. A similar effect can be achieved by endurance training. Take both steps to lower your risk of heart disease and keep your arteries healthy.
Helps with weight loss
The anti-inflammatory and insulin-reducing properties of Curcumin prevent fat cells from growing. Curcumin is thus an effective weight-loss aid.
Improves skin health
Curcuma is said to help the body produce collagen, which prevents skin problems and wrinkles. Because of this, Curcuma is often recommended as an anti-aging supplement.
Curcuma in the kitchen
The main reason Tom and I eat a lot of Curcuma is the taste. Ever since Tom has discovered the Indian kitchen it is always in the kitchen cupboard in a large quantity. The health benefits are a nice bonus.
Wear an apron when you prepare Curcuma because the yellow dye is difficult to get out of your clothes. Your kitchen utensils can also get a color, especially if they are made of plastic or wood.
​​Curcuma powder is easily available these days. The fresh yellow carrot is probably more difficult to obtain. Try to get it at a health food store or organic store.
If you want to use it as a supplement, look for good organic quality.
Some recipes using Curcuma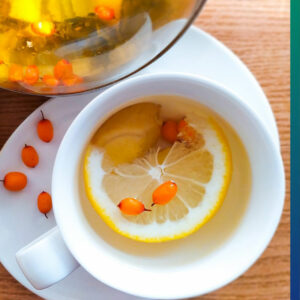 Curcuma tea with cardamom and ginger
Ginger warms and helps against nausea and cardamom relaxes. Together with the benefits of Curcuma, this is a delicious herbal tea.
Organic ingredients:
2 slices of ginger
4 pods of cardamom
1 pinch of Curcuma powder or 2 slices of fresh Curcuma
Preparation:
Crush the cardamom;
Put all ingredients in a tea filter or straight into a mug;
Pour hot water;
Let it steep for 5 minutes.
A variation of this tea is to use a pinch of pepper instead of cardamom.
Turmeric dip
Organic ingredients:
1 lime
50 gr hazelnuts
50 gr cashew nuts
2 tablespoons extra virgin olive oil
2 spoons of maple syrup
1 clove of garlic
1 teaspoon Curcuma
1 pinch of pepper
water
Preparation:
Squeeze the lime
Put all ingredients except the water in a blender
Blend until it becomes a smooth mass
Dilute with some water if it becomes too thick, if it is too thin, add more nuts
Mellow smoothie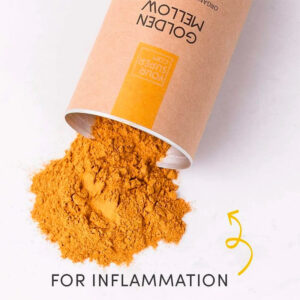 I often use Golden Mellow instead of pure Curcuma for the taste and because it contains pepper. Golden Mellow of YourSuper contains 6 superfoods: Curcuma, Pepper, Ashwagandha, Ginger, Cinnamon, and Lucuma. All organic certified.
Ingredients:
1 tsp Curcuma or Golden Mellow 
½ small mango
1 banana
almond milk
Energy balls
Ingredients:
2 tsp Curcuma or Golden Mellow 
25g cashew nuts
25g almond nuts
50 g dates
Related: What Energy Balls Recipes with Dates are Excellent for our Health?
You will find more recipes using Curcuma here.
Do you like Curcuma? Let us know in the comment box below.