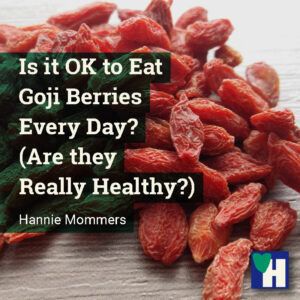 Goji berries have been on my list of superfoods for several years now. In the beginning, I ate them occasionally. Until I saw that they lower cholesterol, which naturally made me wonder: Is it OK to eat Goji berries every day?
Goji berries aren't new to people in Tibet, the Himalayas, and China. However, they're fairly new to our part of the world and I am glad they can now be bought in most organic stores.
A variety of benefits were associated with Goji berries in ancient Chinese medicine. They are mentioned in the oldest Chinese medical and herbal books.
Some of the links are affiliate links. As an affiliate associate, we earn a commission when you purchase any of the products offered through the shared links at no extra cost for you. This helps us maintain this website.
Is it OK to eat Goji berries every day?
In moderation, Goji berries can be eaten every day. On rare occasions, some people are allergic to them. The recommended amount is 20 to 30 grams daily, which is equivalent to 2 handfuls.
Goji berries, a superfood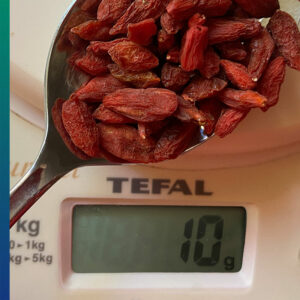 Goji berries, also called wolfberries or boxthorn, are rich in antioxidants including carotenoids like beta-carotene and zeaxanthin. Zeaxanthin is known to protect the retina of the eye and may protect against developing macular degeneration.
Goji berries are also known to:
Protect the liver and enhance liver function;
Improve eyesight;
Lower LDL levels;
Improve sexual function and fertility;
Boost our immune function;
Prevents aging symptoms;
Improve our circulation.
Related: Red Food and the Health Benefits of Antioxidants
Goji berries contain many nutrients
11 Essential and 22 trace dietary minerals;
18 Amino acids;
6 Essential vitamins;
8 Polysaccharides and 6 monosaccharides;
Essential fatty acids, linoleic acid, and alpha-linolenic acid;
Beta-sitosterol and other phytosterols;
Beta-carotene and zeaxanthin, lutein, lycopene, and cryptoxanthin;
Phenols;
Calcium;
Potassium;
Iron;
Zinc;
Selenium;
Riboflavin;
Vitamin C.
Now you know why it's called a superfood! 🙂
Related: What is the Best Food for Energy?
When is the best time to eat goji berries?
Any time of the day is fine. It's suggested if you work out or do some other effort, consuming them right before might be most beneficial. For a snack against the afternoon slump, I often mix them in energy balls.
Related: What Energy Balls Recipes with Dates are Excellent for our Health?
Are Goji berries bad for us?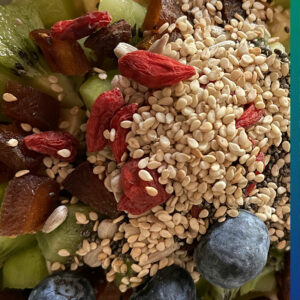 There can be side effects when you are not used to Goji berries or are just starting a new medication.
Known issues are that the berries can sometimes interfere with blood thinners, blood pressure medications, and diabetes medications. If in doubt, ask your doctor.
Goji berries can have a laxative effect. You should keep in mind that the berries are dried fruits, which means they are high in fiber and may be laxative if consumed in excess.
How do Goji berries taste and how to eat them?
They taste both sweet and sour, and fresher than currants. Goji berries are red and have a chewy texture. They can be eaten raw, brewed into a tea, made into a juice, or added to foods like soups or stews. They also combine well with nuts and other dried fruits as a trail mix.
To add Goji berries to your diet you can eat them by the handful or add them to yogurt, granola, and cereal. Combine them with other fruits and vegetables in a smoothie for a tasty and healthy treat. Mix with nuts, dates, and other berries for an afternoon snack, or add them to cookies, rice, soups, and stews.
Related: 3 Healthy Breakfast Recipes, although Not for Everybody
Delicious recipes
How to make Goji berry tea?
Pour hot water over a handful of goji berries in a big glass and allow them to sit for 5 to 10 minutes to hydrate. Their size increases and they grow plump and juicy. In addition to drinking the tea, you can eat the berries which are packed with antioxidants.
It's great to experiment with mixes. Add a couple of mint twigs or a teaspoon of dried chamomile flowers. Personally, I don't want the mint or chamomile to infuse too long, so I add them a bit later to the berries.
Sesame bars with Goji berries
Ingredients:
50 gr coconut oil
100 gr sesame seeds
30 gr ground linseed
30 g cranberries
30 gr goji berries
30 gr dates
30 g maple syrup
15 gr honey
Preparation:
When the coconut oil is hard***, melt it au-bain-marie in a pan;
Soak the dates in warm water for 10 minutes;
Chop the Goji berries and cranberries into pieces;
Add all ingredients together and mix them.
Pour the mixture into a low oven dish or baking tray lined with baking paper and press down well with a spoon or with your hands;
Let it harden in the fridge and then cut into bite-sized pieces.
*** The melting point of virgin coconut oil is between 24C and 26C. Copra oil is of lower quality and has a melting point between 30C and 33C.
Related: Is Coconut Oil Good or Bad for our Health According to the Experts?
Tom's Vegetable cake with Goji berries
Ingredients:
250 gr carrot
250 gr zucchini
250 gr eggplant
2 small red bell peppers or 1 red and 1 green
3 handful of Goji berries
3 eggs
250 gr cornflour or 125 gr cornflour and 125 gr almond flour*
1/2 bulb of garlic
Curcuma, marjoram, or other green herbs to taste**
* Do not completely replace cornflour with almond flour (the mixture becomes too brittle)
** Never add oregano because it is too bitter for this dish
Preparation:
Boil or caramelize vegetables;
Drain excess moisture;
Then add the herbs;
Puree or blend;
Spoon eggs into the vegetable puree until they are well incorporated;
Mix the flour until it is a firm, sticky mass;
Add more flour if it is still too moist;
Lightly grease a cake tin with olive oil;
Pour in the mass.
Preheat the oven to 180C;
Baking time 45 min;
After 25 minutes, cover the mold with aluminum foil to prevent it from burning.
Fresh salad
A simple fresh salad goes best with this vegetable cake.
Sprinkle cucumber and tomato pieces with cumin.
Or finely chopped cherry tomatoes with silver onions and chives.
Goji berries are really healthy
A couple of years ago it was hard to find them in any store but now Goji berries are in many mainstream supermarkets and certainly at the local organic store or market. Add them to your diet and start reaping this superfood's amazing benefits.
Do you like Goji berries? Tell us in the comment box below.