Organic spinach is the best green vegetable to eat. Like all green fruits and vegetables, it has essential health benefits.
When I was a child I hated spinach, cabbage, leek, lettuce, and Brussels sprouts the most. Do you see a resemblance in this row of green vegetables? I didn't! Until I started this article about spinach and other green fruits and vegetables.
I once read an explanation why most kids hate green vegetables: the taste is more often than not bitter. Where children tend to have a sweet tooth. 
Some of the links are affiliate links. As an affiliate associate, we earn a commission when you purchase any of the products offered through the shared links at no extra cost for you. This helps us maintain this website.
The best green vegetable
Spinach is the best green vegetable to eat unless it's not organic. Spinach from traditional farming is one of the most polluted and therefore the worst vegetable to eat. The organic kind is full of nutrients and fibre that is very good for our health.
Eat more green fruits and vegetables
Unfortunately, my mother wasn't that good a cook I am sorry to say. Don't get me wrong, I loved my mother dearly. Besides she made the best apple cake I have ever tasted. She never lost her sweet tooth. 
It wasn't until my husband started to be the cook in the house that I discovered that food – any food – can taste deliciously. This made me conclude that not only my mother but I too am not that good a cook. 🙂
Nevertheless, it would have been a big advantage if I had eaten more green fruits and vegetables as a kid. For years I suffered from severe bronchitis and one of the major plus points of green food is its ability to dissolve mucus in the lungs!
Green vegetables = strength
Do you remember Popeye the Sailorman? I always thought the comic movies featuring Popeye were a trick from grown-ups to get children to eat more vegetables. As a kid, I never thought that there was actually truth to the benefits of spinach.
Green food has a lot of chlorophyll, which is beneficial for the plant itself. Chlorophyll is vital for photosynthesis, which allows plants to absorb energy from the sunlight and thus produce nutrients.
For us, chlorophyll is wondrous as well. Chlorophyll is rich in magnesium. The darker green the vegetable, the better. Raw is better than cooked. 
Magnesium is essential to all cells of the human body. Moreover, 300 of our enzymes require magnesium ions to function. Enzymes are the biological catalysts that accelerate more than 5,000 essential chemical reactions in our bodies.
The darker green, the better. Raw is better than cooked. 
The health benefits of green fruits and vegetables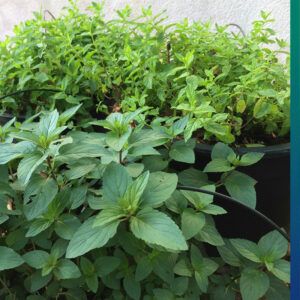 Improves blood circulation and purifies your blood – which makes it great in fighting acne;
Strengthens the immune system;
Is good for the intestinal flora – it lessens bad breath;
Gives a lot of energy;
Works preventively against cancer;
Dissolves mucus, particularly in the lungs;
Makes you clear-headed and works well against depression;
Improves the functioning of the liver, gallbladder, and kidneys;
Is low in calories – helps losing weight.
Related: The 6 Essential Nutrients to Have a Balanced Diet
Over 1000 edible green leaves  
What we call green vegetables in this article must not be confused with what is commonly called leaf vegetables, or leafy greens, salad greens, pot herbs, vegetable greens, or simply greens. These are all leaves of plants that we eat as vegetables. Most leaf vegetables share nutritional and cooking properties.
The leaves of almost a thousand different plants are edible. Vitamin K is the most notable vitamin in these plant leaves. This is because phylloquinone, the most common form of vitamin K, is directly involved in the photosynthesis mentioned above. 
We cast the net of green vegetables a little bit wider and also include fruits, such as zucchini and cucumbers.
Green vegetables, fruits, herbs
Spinach
Broccoli (considered as superfood)
Peas
Green cabbage
Green beans
Green peppers
Arugula
Lettuce
Leek
Cucumber
Endive
Kale (by some specifically advised for the elderly)
Nopales (a cactus species)
Brussels sprouts
Green onions (scallions, spring onions, or sibies)
Celery
Zucchini (courgette or baby marrow)
Avocado (considered as superfood)
Green apple (i.e. Granny Smith)
Kiwi
Green grapes
Lime

Pistachios (unsalted of course)
Parsley
Sage
Rosemary
Thyme
Watercress
Cilantro
Mint – peppermint, spearmint
Dill
Basil
Oregano
Tarragon
Chives
Chervil
These lists of green fruits and vegetables are not complete of course. There are way more green fruits and vegetables and herbs. Although most green fruits tend to be variations of the better known and different coloured types, for instance, green bananas and green mango.
Herbs: the friend of physicians and the praise of cooks
Herbs give flavour to food, but not substance. They can be eaten raw on salads or mixed with every type of food. However, the praise of cooks implies that the cook knows which herb and which amount of herbs or which mix of herbs goes best with a specific dish.
In French haute cuisine, a combination of four green herbs is labelled canonical: finely chopped parsley and chives, and a little chervil and tarragon. Of course, the herbs have to be fresh and organic.
Spirulina is a green superfood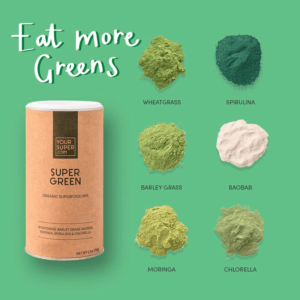 Spirulina is a biomass of blue-green algae. One of the three species of spirulina, arthrospira platensis, is used as a food supplement. Arthrospira is free-floating, fibrous cyanobacteria. They occur naturally in tropical and subtropical lakes.
Cyanobacteria, or Cyanophyta, contain a pigment, phycocyanin, which has the same properties as chlorophyll. They capture light for photosynthesis. 
Spirulina consists of protein (60%), carbohydrates (24%), fat (8%), and water (5%). The protein of spirulina contains 18 of our essential amino acids. Spirulina also contains high amounts of vitamins and minerals.
The vitamins are: A, Beta-carotene, B1, 2, 3, 5, 6 and 9, Choline, C, E, and K. The minerals are: calcium, iron (259%), magnesium, manganese (90%), phosphorus, potassium, sodium, and zinc. The percentages represent the daily amount needed and are taken for 100 grams of spirulina. 
Because spirulina may have adverse effects, consult your physician when you use prescription drugs.
Salads
Raw is better than cooked. Not all vegetables are tasting that good when they are not cooked. Yet some are delicious in salads. For instance cucumber and (my favourite) celery.
This is a great recipe as a side dish
Mix small cut pieces of celery, cucumber, and Granny Smith apple with walnuts and pistachios. Make a dressing of mustard, vinegar, and extra virgin olive oil. Decorate with some blades of chives.
It tastes marvellous with grilled prawns or Norway lobsters.

Enjoy your meal and stay healthy!